Amazing Places To Escape The Cold This Winter
Amazing Places To Escape The Cold This Winter
The colder weather has finally started to set in, which can only mean one thing for Sydneysiders and Melbournites, it's time to start planning your winter escape.
Here are my top picks, both at home and abroad.
At Home In Australia
Uluru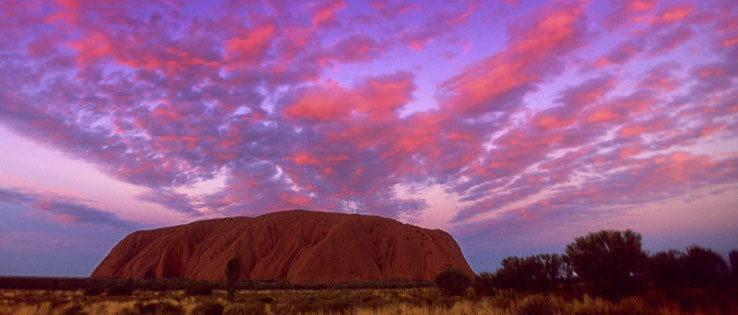 Uluru has been on the top of my bucket list for, well, I would say almost my entire life. The weather can still get up to low-20s in winter and it's a great time to be going with kids thanks to a load of activities.
One that is coming up very soon is the Uluru Camel Cup. The Uluru Camel Cup is on from May 25-26 and it's a fun-filled family-friendly weekend of activities, including BBQs, camel races, helicopter flights, reptile shows and, of course, fashions on the field.
Naturally, there can be limitations when travelling with young children due to the age restrictions from some tour operators, but don't forget the amazing Rock you'll see, as well as all the natural wonders that surround it. You can walk, bike ride, helicopter, bus and hike around Uluru. A good tip is to secure a family package through Voyages Indigenous Tourism Australia – owned by the Indigenous Land Corporation (ILC) – who manage the Ayers Rock Resorts, including 'Sails in the Desert', on their behalf.
Cairns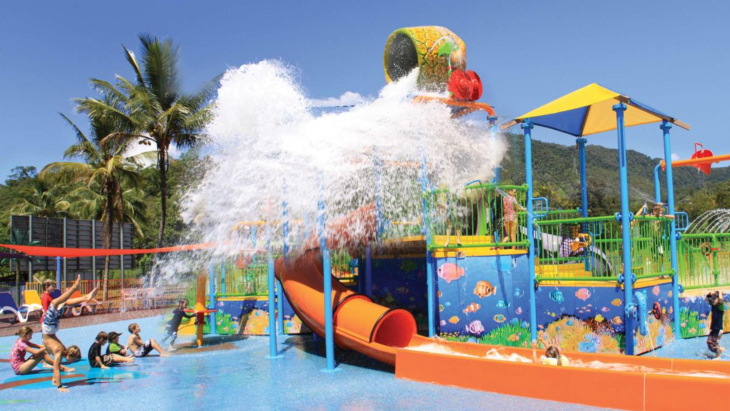 Anytime you decide to holiday in Tropical North Queensland with the family, is frankly the perfect time to go. A few years ago, a friend of mine went on what she terms "the best holiday ever" to Cairns, staying at the BIG4 holiday park. The park itself, Cairns Coconut Holiday Resort, has been voted the best caravan park countless times and it's easy to see why.
It's a family-friendly way to have a wonderful staycation in a tropical location. The park has a list of facilities as long as your arm that suit all types of families on all types of budgets, plus 14 different styles of accommodation. Onsite facilities include a super fun waterpark with splash bucket, giant jumping pillows, adventure playgrounds, mini golf, pools, tennis courts, kids movies, go-karts, toddler indoor and outdoor playgrounds, plus a pool and the list goes on and on and on.
If you manage to get bored of the park (highly unlikely) you're close to shops, tourist attractions including the Daintree Rainforest and, of course, the Great Barrier Reef.
Visit the BIG4 website for current deals.
Kingscliff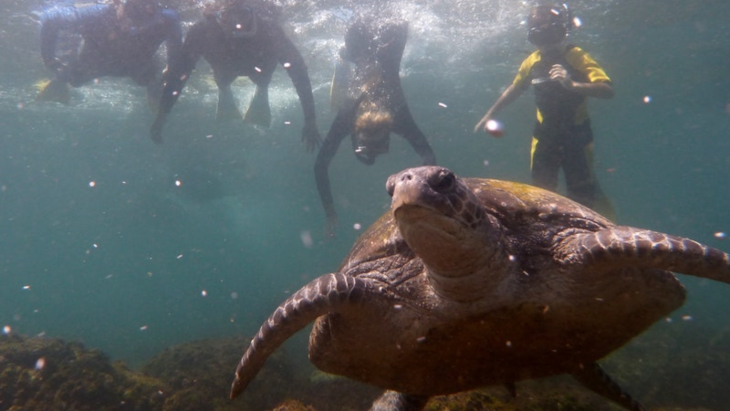 My Aunt and Uncle have relocated to Kingscliff recently from Melbourne. When they first mentioned they were looking for a house in the area, I have to admit that I never knew there was a whole lot more to Kingscliff than their famous Peppers Salt Resort and Spa (sorry Kingscliff!) but, as it turns out, it's a real secret haven for family getaways.
It's in a wonderful location on the NSW far north coast, only 15 minutes from Gold Coast Airport and 30 minutes from Byron Bay. It's home to two world-class surfing breaks and reefs with soft white beaches, it's a kayaker's and cyclist's paradise (my Uncle swears by this!), there are animal encounters galore, plus you have so many mouth-watering food options, as well as markets and shops AND World Heritage-listed Wollumbin National Park on your doorstep.
The weather averages around the low-to-mid 20s during the winter months. For more information on accommodation and activity options in Kingscliff, check out the Visit NSW website.
Darwin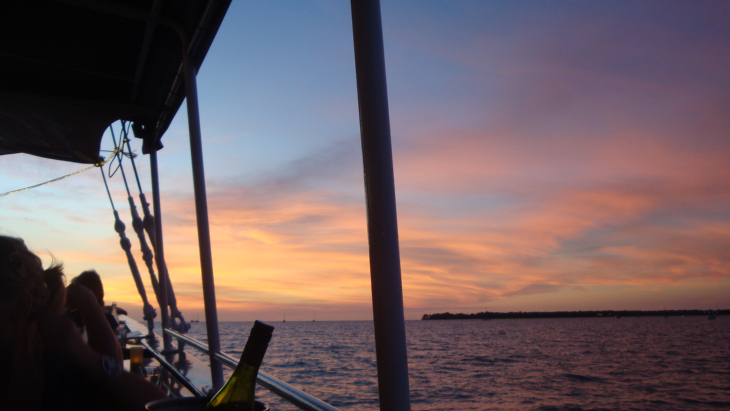 As the saying goes: if you never never go, you will never never know. Never have truer words been said on an ad campaign and never has a catchphrase had more impact once you've been.
The best time to visit the Top End is during our winter months, from June to late September. Visiting Darwin and nearby Kakadu makes you feel like a tourist in your own country. So far removed is it from our southern cities that you gain a newfound appreciation for the wonderful country we live in and your kids will feel it, too. Darwin is so much more than just crocodiles and Cyclone Tracey. There are the family-friendly Mindil Beach Sunset Markets, the free water and recreational lagoon at the Darwin Waterfront precinct, the deckchair cinemas (watch out for the possums!), the history, the Aboriginal culture, the museums, the parks, and the gardens, and it's home to some seriously amazing sunsets. Then there's the wonder of Kakadu and Litchfield National Park.
In my humble opinion, it should be compulsory for every Australian to see NT.
Gold Coast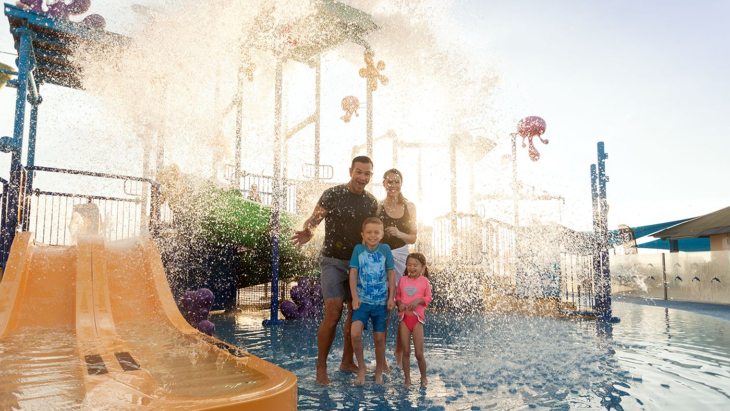 The family Gold Coast holiday is an iconic Aussie tradition. Most of us would have done it ourselves as youngsters. With young kids, the secret is to not try to hit all the theme parks at once, rather focus on one or two, depending on your length of stay. I highly recommend Sea World Resort as a great place to stay. Groupon (and the like) offer amazing deals once a year that are worth holding out for. The resort is a haven for kids, especially the water park in the centre of the complex. Each night they have what I can only describe as a pop-up kids' dance party! For around 30 minutes, fun party lights shine on the water park while playing popular tunes from Nickelodeon cartoons, such as SpongeBob SquarePants. It's a real highlight of the holiday for the kids.
But what I really liked best about staying at Sea World is the gate between the resort and the theme park, which means you can come and go as you please throughout the day. With young kids, this was a godsend. We spent three days taking our time enjoying what Sea World has to offer, instead of being stressed and packing too much into a single day. It was a great way to relax for parents too, and I don't mind saying that I truly enjoyed the day spa treatment.
Lord Howe Island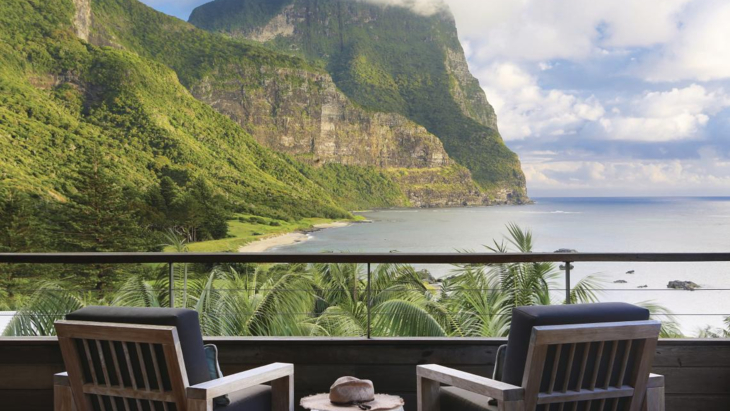 Another destination that's high on my bucket list! If you don't like being surrounded by tourists and just need to recharge and reconnect with the family, then Lord Howe Island is the perfect place for you. Only 400 visitors are allowed on the breathtaking UNESCO World Heritage Island at any one time and it's actually only 600km northeast from Sydney (less than the drive from Sydney to Byron!). The flight "over" seas really does make you feel like you are, well going overseas, when in fact, you haven't left New South Wales.
Thanks to the surrounding warm seas, the climate remains mild all year round and average temps for winter are predicted to be around 20 degrees.
This is a place for nature-lovers as 75 per cent of the Island is protected, leaving the most pristine environment, aquamarine park and an abundance of wildlife.
From the Lord Howe Island website, QantasLink offers year-round scheduled services to Lord Howe Island. Flight time is under two hours, with flights departing from Sydney on most days.
Overseas
Sure, there are the usual suspects: Fiji, Bali, Thailand and Vanuatu, but I want to suggest two other locations you may not have considered.
New Caledonia

Image: Amedee Island
New Caledonia has emerged in recent years as the increasingly popular alternative to Bali and Fiji for Aussie families. Perhaps that's because the flight from Sydney to Noumea is only a little over 2.5 hours and tickets are cheap by international travel standards.
It's a wonderful blend of sun and surf in a tropical paradise with a delicious French injection of culture (oh my, the food, the cheese, the wine, oh la la!)
Not unlike many other tropical islands in the South Pacific, you are welcome to do as much or as little as you'd like. Many visitors report the joy of hand-feeding turtles as they swim in the beaches and just relaxing on the sand. Others talk of experiencing the rich history through local museums and tours. The biggest surprise with New Caledonia is that it's not as expensive as you may think. It seems to have this incorrect reputation for not being family friendly, but that couldn't be further from the truth.
Click here to check out the top experiences of New Caledonia.
Dubai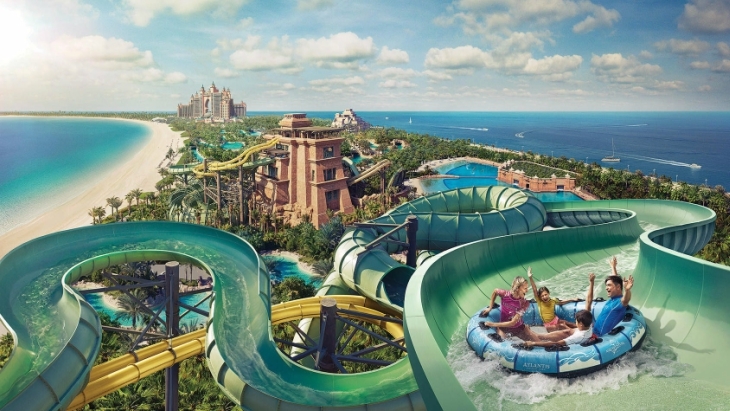 Many years ago, my partner and I holidayed in the United Arab Emirates, predominantly staying in Dubai. It was not my choice to begin with, but I was pleasantly surprised by our time there. We visited a friend who had been posted on a work secondment. And, oh my, what a playground it is! The shopping malls are out of this world, famously housing ski fields and large chunks of Australia's own Great Barrier Reef. The weather is dry and hot during these months, as it is their summer season, but I did find it absolutely manageable. My partner, on the other hand, struggled (I mean it does get up to 45 °C most days!). The upside to visiting at this time of year is cheaper accommodation and far fewer crowds at all the famous attractions.
For families, you cannot go past Atlantis on the man-made island known as The Palm. Just like its famous Bahamas sister, this 5-star luxury resort has something for everyone: romance, action, scrumptious food options (over 23 restaurants in the resort itself), spa and relaxation treatments, animal encounters (swim with dolphins and slide through a shark-infested waterslide!!) and children's activities galore including their mind-blowing aqua adventure waterpark.
Just one point to note, while you shouldn't experience any issues in visiting Dubai, please consider the cultural differences and respectfully act accordingly at all times.
Need Some More Travel Inspo? Check These Out
Feature image: Lonely Planet
Have you signed up to our newsletter? Join ellaslist to get the best family and kid-friendly events, venues, classes and things to do NEAR YOU!