TinkerTank - Coding, Robotics and Design Classes (5 -18 years)
TinkerTank - Coding, Robotics and Design Classes (5 -18 years)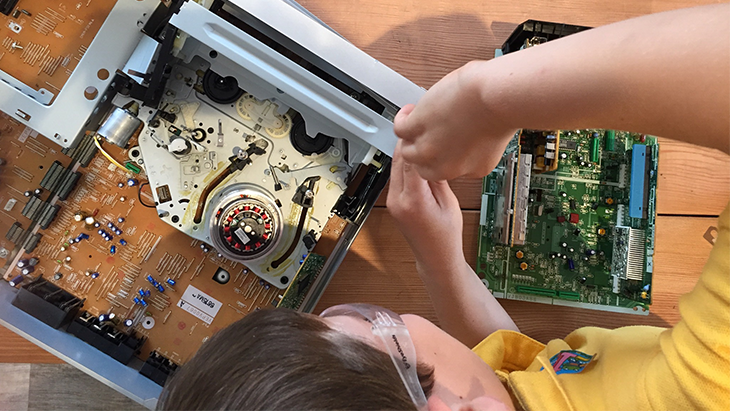 ellaslist COVID-19 update: Please note that all the information on the website is correct at the time of publication. Please check the relevant website before visiting a venue or destination for the latest COVID-19 information. ellaslist is not responsible for any cancellations or closures.
TinkerTank teaches home-school, after-school & holiday Coding, Robotics and Design classes.
TinkerTank is Australia's first Maker-Space for everyone, ages 5+. They teach STEAM - Science, Technology, Engineering, Arts and Mathematics. They are a little different from your usual club-house, teaching robotics, coding and design to everyone, and they do it after-school, during the holidays, on the weekends and for home-educators.

Education on Demand
At TinkerTank they don't break time-slots down into class type or age - they do it by person. When you come to TinkerTank as a member, for the first few weeks you get to experience a bit of everything. Then after a few weeks, they will create a playlist of activities that will guide your learning over the following weeks.

Students get complete control over what they learn and can track their progress as they go. They can take photos, share videos and build a portfolio of experiences.

Why STEAM subjects?
STEAM is the combination of a number of areas of education. STEAM is the future of education... and work! Schools, communities and governments are struggling to provide a solution for everyone. That's where TinkerTank comes in - they make learning engaging, fun and effective by using Project-based learning as the cornerstone of teaching. Without applying to learn, you will struggle to get anyone, young or old to retain it. Simply put - TinkerTank make learning fun.

STEAM skills are required in 75% of new jobs today - that number is only going to increase - it's time to #futureproof at TinkerTank.

What else do they do?
At TinkerTank they have a bunch of things to do during your home school, after school, or holiday schedule.

On top of their regular memberships and holiday camps - TinkerTank offers the following:
Corporate Workshops
Birthday Parties
Studio Hire
STEAM Education Consultancy
3D Printer Use
Internships and Work Experience
Memberships
Every time slot at TinkerTank is a time that you get to go in to create!

TinkerTank offers a playlist of activities, that are planned out for a few weeks. Each week working through your playlist and learning new skills with your mentor.

Being a member at TinkerTank gives you access to the classes, mentors and their learning platform.No lock-in contracts or minimum stays!

Take a membership tour to learn about the time slots that are available from $45 per week.
Before School (7:30am - 8:30am)
Home-School (9:00am - 12:00pm, 12:00am - 3:00pm)
After-School (3:30pm - 5:00pm, 5:00pm - 6:30pm)
FIRST Robotics Team (Weds 6:00pm - 9:00pm)

Where: 29 Rialto Lane Manly and NEW LOCATION 58 Atchison Street St Leonards
For pricing and more information, contact TinkerTank today.
Tell them ellaslist sent you: