Blue Mountains Stargazing Family Tours
Embark on a captivating space journey surrounded by the endless beauty of the World Heritage-listed Blue Mountains and the sound of nearby waterfalls.
Stargazing in the Blue Mountains
Enjoy a fully immersive moonlit experience on an unforgettable Blue Mountains Stargazing Tour immersed in the spectacular night sky away from the pollution of city lights. It's a wonderful opportunity to witness the celestial wonders only visible from the Southern hemisphere.
The fun, interactive tours start with a quick introduction to the history of the Blue Mountains through children's stories. You'll get tips and hacks on how to identify stars and constellations with the naked eye and be introduced to the celestial tapestry of planets, satellites, navigation, the Universe, our home Galaxy and beyond. You will then observe through the professional-grade telescope objects such as:
The Moon and its craters and seas
Saturn's rings
The moons of Jupiter
Mars & Venus
The Orion Nebula
Star clusters
Double & triple stars
Deep space objects such as galaxies and our fabulous
Milky Way
Shooting stars (if you are lucky!)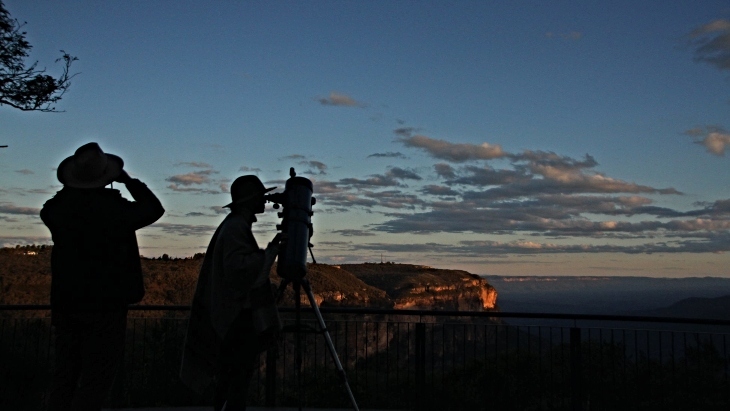 Two 90-minute tours are available - a Sunset then Night Stargazing Tour and a later Dark Sky Stargazing Tour. They run on Fridays, Saturdays and Sundays, and every night during NSW school holidays. Your guide Dimitri has a PhD in Astrophysics and over a decade of experience in Astronomy tours.
A unique skywatching night with a professional telescope is a perfect family experience!
Where: Wentworth Falls Picnic Area, Wentworth Falls Lookout, Sir H Burrell Drive, Wentworths Falls, NSW
When: On now every Friday, Saturday and Sunday evenings
Cost: $70 per adults and $50 per child | Under 4s FREE | Dine & Discover Vouchers accepted
For more information visit Blue Mountains Stargazing.
Tell them ellaslist sent you!