Blaxland Riverside Park & Playground
Blaxland Riverside Park is a spectacular waterside park in Sydney located along the Parramatta River. There are plenty of things to do here: walk or cycle along the riverside walking trail, hire bikes, have lunch at the family friendly Armory Wharf Cafe, discover historic precinct of Newington Armory and ride the Heritage Train (open weekends only). But the main attraction for us is the fabulous playground.
Blaxland Riverside Park play space claims to be the biggest and best playground in Sydney and we reckon they might be right! With it's amazing architectural equipment and bright, cheerful colours, it's beautifully designed and a world away from your usual fenced in local playground. This unique play space provides a huge range of kids activities and challenges for all ages and abilities though is probably best suited to over 3's.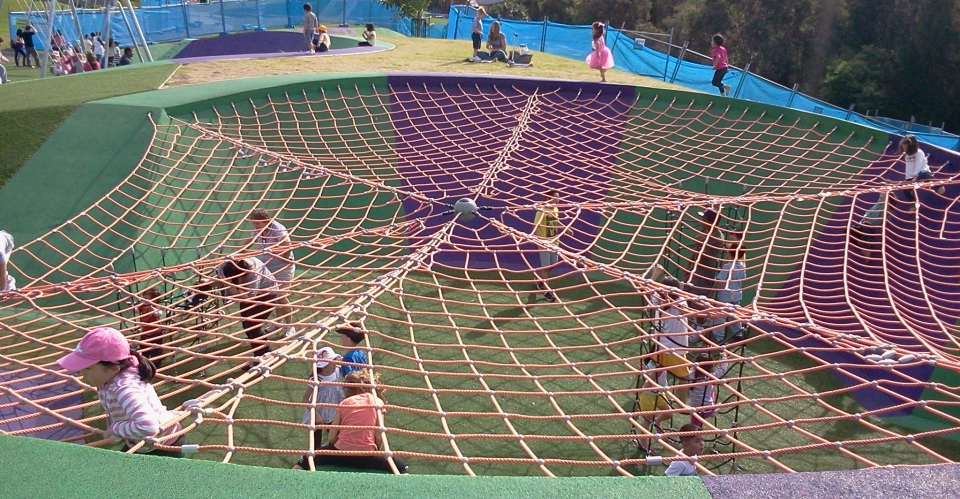 Meandering over 3 hectares, there is water, moving play elements, high and steep landforms and hidden and confined spaces. Our favourites are the mega-swing, tunnel slides, spinning play disk, Viking swing, the stunning multi-level tree house and best of all the huge double flying fox, where mum or dad can go alongside less confident kids. Blaxland Riverside Play Space is brilliant on a hot day as it is home to the largest outdoor water play facility in NSW, so make sure you bring towels and cossies. Be warned, though, it gets hot out there! There are lots of shaded spaces to rest and picnic but the play equipment itself is out in the open so hats and sunscreen are a must.
There's a cute little kiosk that actually serves decent coffee as well as free BBQs in the surrounding park. There are plenty of handy toilets, including baby change and limited free parking. This playground is popular, especially on weekends and school holidays so you may have to park in the P5 car park, located off Hill Road, and make use of the pathways to cycle or walk to this new play space.
Toddlers
Preschoolers
Kids
Family