School Of Rock Sutherland
School Of Rock Sutherland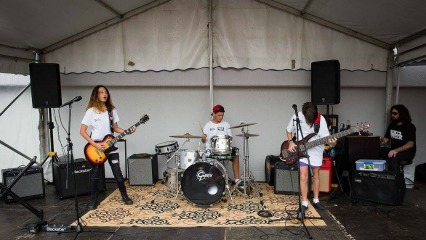 Welcome to School of Rock Sutherland, where students learn to rock their worlds through learning music and how to play a variety of instruments.
School of Rock Sutherland has the best combination of instructors, instruments, and captivating programs to get your student strumming, drumming, playing, or singing their way to rockstar status.
It is the school's belief that the best way to learn music is to play music. They take students from the lesson room to the stage, developing both their confidence and musicianship with programs designed for all skill levels. School of Rock teaches guitar, bass, vocals, keyboards, drums and combines weekly private music instruction and group band rehearsals to prepare students to take the stage in front of live audiences in an authentic concert setting.
At School of Rock Sutherland, the Performance Program puts the students front-and-center on a real stage for real performances. Students get to show off their killer music skills while learning serious teamwork as they and their bandmates refine their abilities through some of rock and roll's greatest hits. Sutherland students will blow your mind with advanced performances chock-full of hits by famous artists such as Pink Floyd, Led Zeppelin, Van Halen, The Rolling Stones, AC/DC, Frank Zappa, Queen, and many, many more!
All students in Sutherland's Performance Program can expect:
- Weekly private music lessons on guitar, bass, keyboard, drums, and/or vocals
- Weekly band rehearsal to get students prepared for real shows
- The experience of performing on stage with their band at real venues
- Key learning in fundamental areas such as stage performance, harmonies, musicianship, and more
- Fun, music, and education wrapped into one all-inclusive experience!
For more information, call 02 8521 7535 or visit the website.
Tell them ellaslist sent you!